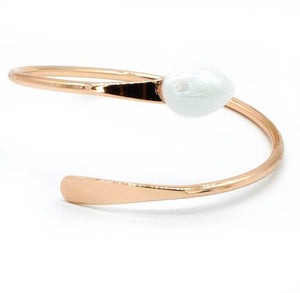 You can earn
points for purchasing this product.
Elevate your style with our Rose Gold Toned Bangle Set from the Monogamy Collection. This bangle set is perfect for any occasion, and you can wear it alone or with other bracelets for a complete look that never goes out of style.
The Monogamy symbolizes loyalty and trust, making it the perfect match for our collection. Our bangle set is made with high-quality materials and is designed to last, so you can enjoy it for years to come.
Introducing the Monogamy Bracelet - a perfect combination of style and simplicity. We've crafted this bracelet with white freshwater pearls, creating a classic design that will always be in fashion.
Shop our Monogamy Collection for more elegant pieces that celebrate the power of love and commitment. Our collection includes high-quality jewelry that is perfect for any occasion and is designed to last a lifetime.
Adjustable