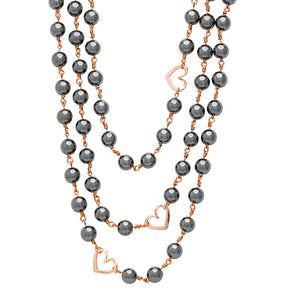 Our hematite necklaces are a must have. Every gal needs at least one good necklace to bring out her inner attitude. Our three layered wire wrapped necklace with three heart charms compliments any outfit you wear perfectly.
A magnetic clasp makes this multi layered necklace easy to wear. Black hematite pearl beaded necklace.
Silver Hematite Stone beads.
Hematite is a very grounding and balancing stone, often used to help connect one back to the body. Hematite can also be helpful in reminding you to take care of your physical body, making sure your needs for things like food, water, and sleep are met. It has also been used to balance energy meridians in the body.
You can earn points for purchasing this product.